"Salty" – The Classic Peterson 34.
"The Peterson 34 is a thoroughbred vessel with comfort and turn of speed that can only be found in designs by Doug Peterson." – Sailing Magazine



















Homage to Salty's designer, Doug Peterson (1945-2017)
Reprinted from Sailing Magazine, June 2015:
The Peterson 34 is a thoroughbred vessel with comfort and turn of speed that can only be found in designs by renowned American Yacht Designer, Doug Peterson. Designed in 1976, The Peterson 34 is a tough, well built, fast and affordable performance racer-cruiser capable of safe passages or as a contender in an offshore race. Peterson noted that the 34 was built "to deliver about eight people quickly and safely from point A to point B (such as Newport to Bermuda)." The majority of Peterson's performance cruisers were considered rugged enough for ocean racing and this quality solidified Peterson's reputation as a premier designer. During this era, his designs dominated offshore racing winning with IOR boats Gumboots, Eclipse, and Ragamuffin and stock stock racers such as the Contessa 35 and the New York 40 in races such as The Fastnet, Sydney to Hoabart, and Chicago to Mackinac. Having an excellent reputation for windward sailing performance in both light and heavy air, the Peterson 34 slices through the waves and does not pound.  The solid glass hulls of the Peterson 34s are extremely strong and built to take it in any sea. The combination of spade rudder, fin keel, and substantial ballast give the boat both speed and handling ability. Ask pretty much any owner and you'll hear the Peterson 34 is one sweet boat under sail. "It sails like a dinghy," said owner John Mills of Mattapoisett, Massachusetts. "It has a reputation as a boat that's good in light air," said yacht broker John Proctor at Lawson Yachts. "It's attractive, well designed and can keep a crew of  five comfortable." The Peterson 34 performs so well on the race course, that the boat's cruiser capabilities are often overlooked.  An amazing yacht with a gorgeous interior set off by solid hardwood floors, 92  were built between 1976 and 1981 in League City, Texas by Island Yacht Corporation.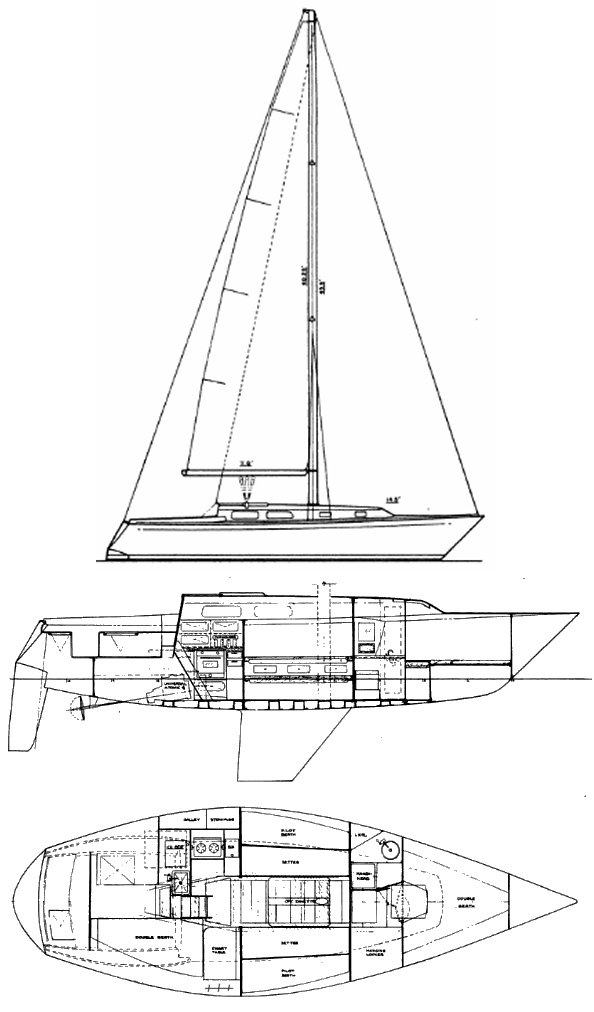 Production Details – Peterson 34
LOA 33'11" | LWL 28'3" | Beam 11'2" | Draft 6'4" | Displ. 10,800 lbs.| Ballast 5,100 lbs. | Sail Area 581 sq. ft.